Avast SecureLine is easy to set up, but its features are limited and it's too expensive to truly compete with other VPN services.
Best choice!
Number of Servers
Pricing
Support
Features
8.0
Avast SecureLine is easy to set up, but its features are limited and it's too expensive to truly compete with other VPN services.

User Rating:

Be the first one !
Avast SecureLine VPN is made by one of the world's most popular security companies – Avast (makers of Avast Free Antivirus). It was first introduced to the market in 2013. Its main benefits are the simple interface and very solid connection speed with minimum impact on download/upload speeds. The product is available as a standalone version or as a component of Avast antivirus.
Like some other antivirus makers, Avast has added a VPN service to its list of computer-security products, hoping to get existing customers to buy an additional service. But while Avast SecureLine performs reasonably well as a VPN, its features are limited and its pricing scheme, while recently simplified, is still confusing when compared to full-featured VPN providers such as Private Internet Access.
Avast SecureLine VPN exists in several versions including a mobile one (both Android and iOS) and multi-platform, but in this review, we will focus on the Windows desktop version of SecureLine. The awesome thing is that Avast SecureLine VPN is also available as a free trial version, so you can give it try before you buy.  If you decide to pay it costs $79.99 for the 1-year license.

SecureLine is great if you are looking for a simple product to protect your connection to public Wi-Fi networks (airport, cafes). Also, its impacts on internet connection speed are minimal so it's good to use for downloading/uploading files. It supports up to 5 simultaneous connections and includes DNS leak protection. However, it lacks some of the key features of other VPNs like Kill Switch.
Features and Interface
With a couple of dozen servers in 19 countries, SecureLine has far fewer connection points than full-featured VPN services, which have hundreds or even thousands of servers scattered across the globe. Still, this limited number of access points should be fine for most travelers.
The SecureLine interface is pretty much the same between mobile and desktop devices, and it's clean, bright and easy to navigate. One downside of basing everything on the mobile interface is that the SecureLine desktop interface stuffs everything into a tiny window that can't be enlarged.
SecureLine also has fewer configuration options than other VPN providers. You can't switch among VPN protocols, which are fixed to OpenVPN for Windows and Android, and IPSec for Mac and iOS. Nor can you set the VPN service to connect automatically upon system startup or when a device connects to an unsafe Wi-Fi network.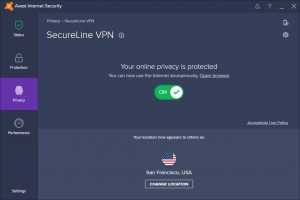 There's a helpful VPN configuration page in the app for iPads and iPhones. Unlike some VPN providers, SecureLine lacks ad blocking on any platform.
Privacy Protections
Like most VPN providers, SecureLine VPN uses the AES-256 protocol to encrypt data transmissions. Because Avast doesn't accept payment in Bitcoin, gift cards or other virtual currencies, you'll need to use your real name when registering for the service. Avast says it does log your connection information when you use SecureLine VPN. There's no "kill switch" option to cut off all internet activity if the connection to the VPN server is lost.
Avast SecureLine VPN is owned and operated by Avast Software, a Czech company. That may seem obvious, but some other VPN operators are hidden behind shell companies registered in offshore tax havens. The Czech Republic generally operates using European Union privacy laws.
Downloads
PC

$59.99 / year

Mac

$59.99 / year

Android

$19.99 / year

iPhone or iPad

$19.99 / year
Performance
Among the VPN services we tested, Avast SecureLine's performance was generally in the middle of the pack. It had a slow connection time of 12.3 seconds and a network latency — how long data takes to get to its destination — of 37 milliseconds, more than double the latency without the VPN running.
While connected to SecureLine VPN, our Lenovo X1 Yoga test system downloaded data at an average rate of 37 megabits per second (Mbps), representing a respectable 30 percent drop from the non-VPN rate of 53.1 Mbps.
SecureLine uploaded data at an average rate of 16.5 Mbps, representing a 14 percent drop from the non-VPN rate of 19.3 Mbps. It required no reconnections during testing.
However, when we downloaded a 428MB video file while connected to SecureLine VPN, it took a slow 14 minutes and 21 seconds — a 376 percent slowdown from the non-VPN time of 3:01. Only Avira Phantom VPN and PureVPN took longer. Private Internet Access downloaded the same file in 4 and a half minutes.
Server Locations & Countries – Where you can connect?
In terms of server locations and countries, SecureLine VPN only offers a basic list of 35 countries and 57 cities. Out of those, there are 8 locations also available as peer-to-peer which means you can stay anonymous even during direct file transfers. In May 2018, the new secret location designed for streaming services (e.g. Netflix)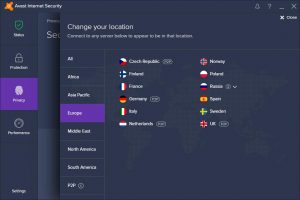 The full list of locations includes:
Africa – South Africa (Johannesburg)
Asia Pacific – Australia (Melbourne), New Zealand (Auckland), Japan (Tokyo), China (Hong Kong), Republic of Singapore (Singapore), South Korea (Seoul), Malaysia (Johor Bahru),
Europe – Austria (Vienna), Belgium (Brussels), Denmark (Copenhagen), Netherlands (Amsterdam; P2P), Germany (Frankfurt; P2P), Finland (Helsinki), Norway (Oslo), United Kingdom (London; P2P, Glasgow), Spain (Barcelona, Madrid), Italy (Milan), France (Paris), Czech Republic (Prague; P2P), Sweden (Stockholm), Poland (Warsaw), Hungary (Budapest), Luxembourg (Luxembourg), Switzerland (Zurich), Portugal (Leiria), Russia (Moscow, Saint Petersburg)
Middle East – Turkey (Istanbul), Israel (Petah Tikva)
North America – Canada (Montreal, Toronto), United States (Atlanta, Boston, Chicago, Dallas, Honolulu, Jacksonville, Las Vegas, Los Angeles, Miami [P2P], New York [P2P], Phoenix, Salt Lake City, San Francisco, Seattle [P2P], Washington DC), Mexico (Mexico City)
South America – Brazil (Sao Paulo)
This really isn't much and compared to some other VPN services which have servers in 100+ countries it seems really low. That's why we are only giving 3.5 out of 5 stars for the number of server locations.
Customer Support
Avast does quite a poor job in terms of customer support. There is no phone number you can call and ask for free help and there is no live chat. On social media, they usually ask you to use one of the resources below.
That's why we are giving only 3 / 5 stars for Customer Support.