It's impossible to determine when our favourite websites may go down. Almost everything and nothing is certain on the internet.
KissManga and KissAnime have been shut down, and no one knows if they will resume.
Millions of otakus became "refugees," looking for new sites to replace their old favourites. There's no need to look any further because we've done the legwork for you and got a list of the 14 best KissManga alternatives. Some are excellent alternatives, while some are much better.
You may also discover more about the best KissAnime alternatives for watching your favourite anime if you were a lover of both anime and manga.
What Is KissManga?
KissManga was KissAnime's sister site, and it offered the best manga collection to its visitors. Its database included both old and new mangas that were popular among fans. KissManga became one of the most popular manga sites in the world as a result of this.
KissManga made it easier for otakus all around the world to keep up with the latest manga releases. They may choose between the site's light and dark modes while reading, as well as read on their phones. KissManga com catered to everyone with categories for all ages and an easy UI.
KissManga's biggest advantage was its link to KissAnime, which allowed users to go from reading to watching in a flash. Of course, viruses had to be navigated as well, but that was a minor price to pay for free and high-quality information. Readers can look at various free malware removal tools, which you can do as well.
KissManga also allowed you to store and share the manga you were reading with your friends in an instant. This could be done on almost any platform, including Facebook and email.
Available Categories
KissManga has a broad range of categories. The majority of its readers were fans of Shounen and Shoujo manga, but Josei and Seinen fans were also welcome. If you're familiar with these terms, the later pair is for people aged 12 to 18, while the former is for people aged 18 to 40.
KissManga also had Kodomomuke or Kodomo for young readers. These choices are for children under the age of ten. However, anyone who is familiar with Japanese culture knows that not everything can be classified as a genre. On the site, there are also manga selections that are considered "alternative" reading formats.
People who aren't interested in genres will find the most recent and popular manga on the first page. These can be Horror, Science Fiction, Fantasy, or a combination of the three. KissManga offers a wealth of content for otakus of all ages and backgrounds. This is why the shutdown made it evident that KissManga alternatives were needed.
KissManga Shutdown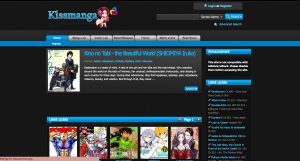 KissManga and KissAnime have had difficulty remaining online for extended periods of time. There have been times when they were momentarily unavailable, only to reappear with a slightly different domain or as if nothing had happened at all. These sites have had a tumultuous relationship with the law, but it was anticipated that they would recover.
They announced this year that they will be shutting down permanently due to copyright disputes. People expressed their sorrow while conceding that the sites' pop-up ads and concealed infections would be missed. What caused it to shut down?
The Shutdown
KissManga has also been accused of stealing content in the past. Despite the fact that the site's manga collection was never legally secured, they continued to profit from it. KissManga app, which has millions of users, has become a major supplier of pirated content. While sites like KissManga in and KissAnime replacement made it easier for people to get the art they enjoyed, there was no denying that they were harmful to Japanese culture as a whole.
Although little information concerning their demise has been released, many feel that Japan has finally enacted a law that has resulted in their demise. These websites were plagued with copyright accusations to the point of someone being shut down.
People were left wondering where else they could get current comics and anime.
If there are 14 greatest KissManga alternatives for ardent manga readers, there are also 14 best KissAnime alternatives.
Top 14 Best KissManga Alternatives to Read Manga for Free
In this article, you can know about KissManga to Read MangaforFree here are the details below;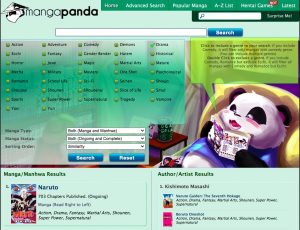 Manga Panda joins the list of KissManga alternatives with impressive sorting methods, hosting over a thousand mangas. There are over 39 genres to pick from, including several that are rare, including such gender bender, historical, and one-shots.
When looking for manga on the site, you can filter your findings by manga type, manga status, and sorting order (alphabetical or by popularity). Yes, Manga Panda contains up-to-date mangas from global fan favourites, before you start to wonder. Naruto, One Piece, and Boku no Hero Academia are some of the shows that fall within this category.
The manga on this site has been translated into English. On Manga Panda, there is always something to read.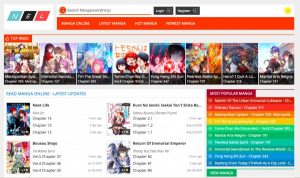 Manganelo is a manga hub run "for the people, by the people." It is a social networking site for manga fans and is also one of the greatest Kiss Manga alternatives for getting the latest comics.
What will motivate fans to connect on social networks?
Mangadelo, for starters, is a forum for aspiring manga creators. Manga can be shared by people who discover it, write it, or are simply lovers of it. By doing so, the community can assist one another in becoming better artists or expanding their interests.
You must first make an account on Manganelo in order to upload your own manga. You are, however, free to read whatever you want if you merely want to appreciate the content. Mangadelo, like other KissManga alternative, offers current manga.
The best part is that Manganelo also has HD anime. The site automatically displays the content you choose, making it one of the top KissManga alternatives for you.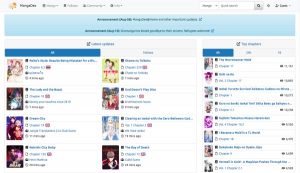 MangaDex.org, which gets millions of visitors each year, is one of your best bets for filling the KissManga-shaped hole in your heart. It was included in the list of KissManga alternatives because of its diverse and big manga collection.
The bulk of the manga on MangaDex is translated, Japanese, Chinese, and Spanish. This collection has been built from the ground up by the community, and you are free to read it. MangaDex is a gifting site with a community that prides itself on fan-made content in more than 30 manga categories.
Users can also join in forums on the site. This platform can cover a wide range of topics, like manga and anime, gaming, and even fan contests. Nevertheless, you are not obligated to interact with other users. If it doesn't pique your interest, you might be interested in the MangaDex ads.
The fact that it is ad-free is the platform's hook, line, and sinker. MangaDex is funded by donors and fans, therefore it is a gift from the community to the community. This is a big step up from KissManga, where ads were raunchy, abrasive, and often included malware.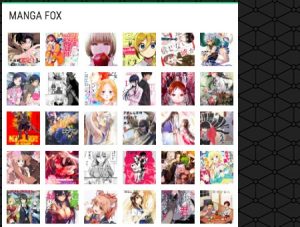 Manga Fox is another great option to KissManga. It lacks the community aspects of MangaDex and Mangaupdates, but it does have a vast manga collection.
Romance, drama, school life, fantasy, action, the supernatural, and more are one of the genres available on Mangafox. The shoujo, shounen, and seinen categories are also available if you choose your manga based on demographics (as most people do).
You can also order your manga by the page views or the amount of new releases. All you have to do is be careful of the ads on the site. Aside from that, Manga Fox is one of the best KissManga alternatives simply because of its collection.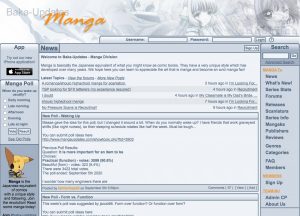 Mangaupdates allows you to join a community, which is likely its most critical difference from KissManga.
The site is comprehensive and caters to manga lovers, and it is operated by dedicated otakus. There are discussion boards, polls, and the most current manga news available there. Some people even share their own mangas, with the community assisting them in developing their performance.
In terms of manga, Mangaupdates' collection is diverse and up-to-date enough to appeal to a wide range of readers. There are a plethora of categories to choose from, as well as an advanced search box for more detailed searches.
It should be noted, though, that in order to begin your Mangaupdates trip, you must first sign up. For folks who want to keep to themselves, this may not be the best option, but there are other KissManga alternatives on the list.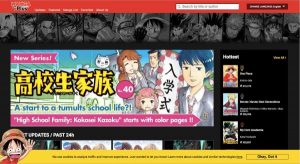 Manga Plus and Manga Plus by Shueisha are the first KissManga alternatives on the list. These are the partner sites in charge of manga distribution outside of Japan. They provide otakus with both physical and digital copies of their favourite stories, and they have a large library to do so.
Manga Plus is popular among users since it offers a variety of alternatives within the website. Some chapters are multilingual (English/Spanish) (for Manga Plus by Shueisha). Furthermore, their collection expands on the a regular basis, in sync with Japanese releases.
Manga Plus allows manga fans to skip the long lines. This isn't just any collection; it includes popular manga series such as One Piece, My Hero Academia, and Death Note. On the title page of each release, there will be a release timetable. That way, you'll know when the next chapter of the storey will be released.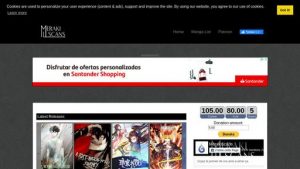 Merakiscans features some basic online manga offerings, making it one of the better KissManga alternatives. It's a place wherein manga fans may enjoy their favourite works while also connecting with others who share their interest. It will be difficult to miss the discord link on the home page, which will enable communication with other otakus.
It's fine if you don't want to interact with others. Based on your reading history and tastes, the site can make manga suggestions to you.
Merakiscans, in comparison to the other sites on this list, is still building its manga collection. Although the platform has only been around for three years, the work that has been done on it has been highly beneficial to manga fans.
It keeps updating its manga collection and offers Chinese, Korean, and English translations. Millions of users throughout the world enjoy their releases because there is no limit to how many they can read.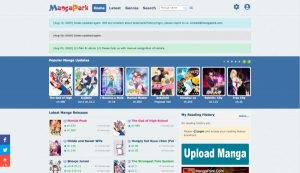 MangaPark is the best option on this list of KissManga alternatives. With over 34,000 Facebook likes, you may be sure that this is a reliable source for your favourite manga.
MangaPark's collection contains millions of manga titles, therefore it has almost any manga you can think of. You can also share your manga to MangaPark, where their active community would happily help you with your work. You may filter your searches by author, genre, and new releases using its sorting method. MangaPark's home page also has a list of the most popular manga titles among fans.
Overall, MangaPark is a consumer manga reading platform. It's also a huge plus that there's no annoying advertising strewn over the place.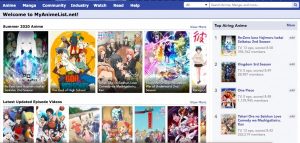 MyAnimeList.net, unlike some of the other KissManga alternatives on this list, is specifically designed for otaku-based social networking. You have a Community tab where you may discuss your thoughts as you go through your read and watch lists.
MyAnimeList.net also features a list-style method for sorting over 700,000 manga and 4.4 million anime titles. People with similar interests will be able to locate one other more easily as a result of this. Moreover, it produces micro-communities within the otaku community as a whole. MyAnimeList.net has a large collection of anime and manga in addition to social networking. It also includes the most recent news and updates. This covers information about the anime and manga industry as a whole, and also tributes to the creators of your favourite shows.
You do not need to join up to enjoy manga and anime, as you do with other manga and social media hybrids. Still, it might be interesting to engage in a discussion; the community is friendly and large enough for everyone to find a place.
This year, for example, they offer a Manga Reading Challenge for 2020. Candidates will be requested to read a huge number of manga of varied difficulty levels throughout the course of the year. Some people have read more than 300 manga titles.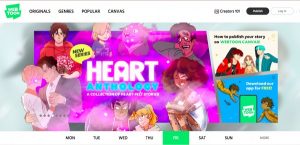 Webtoon has become one of the most popular KissManga alternatives on the internet in the previous year. If you're familiar with Webtoon, it's basically a platform for reading, discovering, and writing comics from anywhere, thanks to its Android and iOS apps.
Many manga fans find it difficult to create their own, but Webtoon has a variety of templates from which to pick. While this is a great site for finding great manga, it is undeniably the best for fan fiction. With unlimited options, many fandoms turn to Webtoon to create their own comics.
There are around three million manga titles to pick from, spanning 70 genres. Going through the Webtoon collection will not boring you. But if anything, it might pique your curiosity in making your own manga.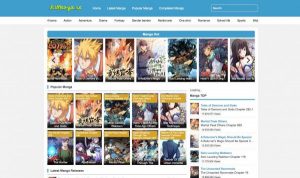 Mangakakalot is one of the largest databases of free manga in the world. It features both old and modern manga, making it suitable for residents and visitors alike. The most recent chapters of manga's most popular titles will also appeal to otakus.
The latest manga releases are shown on the home page, making it easy to keep up with them according to Japanese time.
Mangakakalot, like the other alternatives on our list, has a number of sections. You can narrow down your options by completion, attractiveness, or release date. Mangakakalot offers over 70 different manga genres to pick from.
This platform also includes a nascent online community that will warmly welcome any new manga creator or fan. Overall, this service offers the same basic features as KissManga, but with a more modern interface and community.

Manga Freak does not make manga reading difficult. It gives its users total autonomy, allowing them to read any manga they want without being bothered by other people. Manga Freak is one of the best KissManga alternatives if you wish to celebrate manga on your own.
The site is simple and easy: you may search for manga you want to read, and their extensive collection is also alphabetized. It also keeps track of your reading history so you don't forget about the stories you've finished.
The site's best feature is the randomizer button. Randomizer buttons allow you find new manga in a more natural way when you have vast collections like these. This is ideal for folks who are looking for best manga to read yet feel they already have read all.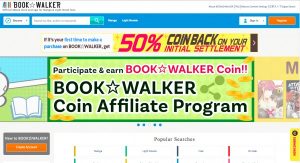 Bookwalker and Comic Walker are the next two KissManga alternatives. These are helpful options for purchasing and reading manga. They're also up to date, and the most, if not all, of the manga on these sites is available for free.
They're likely to release the most popular manga of the moment. The bulk of them are available in both Japanese and English, offering enough variety to appeal to a global audience.
Additionally, they have Light Walker and comics for those who enjoy all types of graphic novels. These are meeting places for manga fans and other comparable platforms, making them a convenient addition to KissManga alternatives lists.
Final Word
While the internet laments the loss of sites like KissManga and KissAnime, it is important to remember that new alternatives are always available. Some of these platforms even include the phrase "Refugees Welcome" on their homepage, a reference to the two websites' shutdown.
These platforms cater to a wide range of interests. They adjust to your reading choices, sociability needs, and reading style. It's merely a matter of choosing which manga to read for the day.